Photo by the amazing Mikael Hollsten -09
Model & Make-up by me, myself and I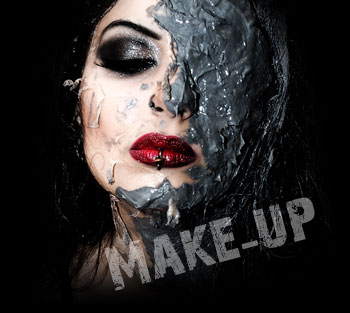 Whether I'm in town, at work, in supermarkets, at concerts etc.. People come forward and ask me many questions about my make-up. For instance, what kind of make-up I use, how to put a perfect eye make-up etc.. It also happened several
times that they picked up their camera and asked if they can take a picture of me.
And it's not just IRL people asking me those questions, but also here on web. So, that's why I've decided to create a make-up page to talk a little bit about this and that.
It doesn't matter if you're a beginner or a pro..
No one, and I really mean no one can ever be fully learned when it comes to make-up! And as long as you're working with it, you'll always learn something new.
My interest in art has existed since childhood. I guess it runs in the family ;)
I've always loved creating things/stuff with my hands, whether if it's oil paintings or pottery. It didn't took so long before I realized that make-up was my greatest passion. I really adore bringing out the best in people by highlighting their beautiful features and much, much more.
Well, as many of you already know.. I'm self-taught and through all those years I've been playing with make-up and trying many products and comparing it with each other. And what I've come to is that the most expensive products are not always the best!
The make-up quality has also for the last 15 years dramatically deteriorated.
Just take a look at all foundations who now includes plenty of water/alcohol and hardly any pigment longer, and if you ask me.. I'll tell you, that is pretty fucking sad!
Many of you might disagree with me now, but remember dear, that we all have different taste here. And as we say in Sweden.. "smaken är som baken" ;)
According to me, a perfect make-up base should be full coverage and also be able to allow your skin to shine through. The idea of it all, is letting people think/believe that you're not wearing any foundation at all. No one should be able to figure it out ;)
I'm gonna show you here some of my favorite (and non-favorite) products.
Lets start off with the foundation.
Soin Peaux Mixtes - Yves Rocher

This is my nr.1 favorite foundation.
It covers great and stays on all day!
It provides a healthy and natural appearance and also give balanced and sustainable make-up.
Your skin becomes matte and clear.
And the best of it all.. no one can see that you're wearing a foundation :) Isn't it great? ;)
But unfortunately, this product has expired around year 2001 - 2002 :(

Under Eye Concealer - Yves Rocher - Luminelle
This concealer has replaced the old one (also from the same brand), but even this works for me. Creamy and very easy to work with. Covers great and it's not so expensive either. 56 SEK (around 8 $)
Cover All Mix - Make Up Store

Three lovely and beautiful colors to choose from.
It covers great, but unfortunately this product are a little bit difficult to work with. The consistence are pretty hard and has a tendency to attach itself as a cake around the eyes and other facial parties.
Not exactly sexy ;) And the price? Quite expensive. 255 SEK (around 34 $)
A & J - Blue Neutralizer, 10 ml

When I first bought this product, I thought.. WOW, this one are going to magically remove the dark rings around my eyes... well, until I tried it. I became very disappointed :/ It didn't cover so well even though my dark rings aren't SO visible. The consistence is also very sticky and don't attach to the skin, and especially not on a warm/hot day. Although, it might work on a freezing day. But if you ask me, I would say that this concealer aren't worth those 32 dollars (around 245 SEK)
Loose powder, Transparent - IsaDora

Another favorite product who unfortunately got expired for a few years ago, but came back on the market again last year. The sad thing though, is that they doubled the price of it :/
Would you like to know my biggest secret?
Well then, just take a look at the picture below..
Dialon - Body Powder

If you want your make-up to stay on all day, then you need to fix it well.
Did you know that the horror/prosthetic make-up specialists use talc/baby/body powder to fix the whole thing? Well sweetheart, believe it or not.. that's what I use too :) It's also very cheap, it cost only 29 SEK (4 $). And for the refill, 10 SEK (around a dollar).
Giordani Gold (Oriflame) - Coco Red

I'm insanly in love with Giordani Gold, and especially with their perfume and lipstick. Coco Red is my nr.1 favorite color. .. and guess what dear? That color got also expired for a couple years ago and since then I've searched like a maniac after a similar lipstick but without any success :(
More products to come.. so keep watching this space :)